Formula 1
F1 in a nutshell | Raikkonen thought to get away with illegal pit stop
By Srihari HS 25 September 2020 | 05:25
---
In the section 'F1 in a nutshell' MaximumF1 keeps you up to date with the latest news in F1 that does not need an extensive mention, but you may still want to know.
Raikkonen thought to get away with illegal pit stop
Kimi Raikkonen received a penalty for not entering the pits properly prior to the red flag situation at the previous Grand Prix on Mugello. In fact, he thought he could get away with it. "I know the rules, of course, but I saw some dust coming up that made me think it was smarter to pit. I was expecting a safety car," says Raikkonen at Racefans.com.
He was hoping to get away with it in the chaos that followed. "Sometimes you get away with it, sometimes you don't. Above all, I hoped it wouldn't get noticed by the stewards. They sometimes miss things like that in the chaos".
Todt comments on F1 calendar 2021
It will be another puzzle to complete the Formula 1 calendar of 2021, as the coronary pandemic will most likely not be over next year. FIA President Jean Todt realizes this too. The Frenchman tells Eurosport that the challenge is not to clash with the Le Mans 24 Hours. "We are trying to do everything we can to avoid a clash between Formula 1 and the WEC," he says. "But of course it also depends on where Formula 1 is at that time, given the time zones. We are doing our best." According to the original 2020 calendar, the Canadian Grand Prix, which was due to take place on June 14, would coincide with the Le Mans 24 Hours. Todt prefers to avoid that next year.
New addition to Ricciardo helmet on new sponsor deal
Daniel Ricciardo has brought in a new sponsor according to HighwayF1. Telecommunications company Optus has made a two year deal with the Australian driver: his helmet will carry the YES logo until 2022, prominent on the front under his visor.
FIA and F1 confirm one corona infection in paddock
The Formula 1 drivers, team members and other people in the paddock may finally get some rest after the third triple-header of the year, the organisation of F1 and the FIA will continue to test for the coronavirus in the background. In the past week, there has been another case, according to 1,938 tests. It has not been released whether this is someone inside or someone outside the teams. 
Hamilton after critical t-shirt: "Continue to use F1 as a platform"
Lewis Hamilton reacts via his Instagram to all the criticism he receives about the use of anti-racism t-shirts. The reigning world champion says he has no intention of stopping: he still wants to use Formula 1 as a platform against inequality.
"I want you to know that I am not going to stop and give up using this platform," says Hamilton, who is currently the only coloured driver in the royal class of motor racing. The Britishman thanks his fans and all the people who support him as he calls on everyone for a better world. (Photo: Lewis Hamilton Twitter)
Entry fee of $200 million for new teams in F1
In order to prevent every team from entering Formula 1 just like that, the teams and the organisers of F1 want to demand $200 million dollars (169 million euros) for a new team. This will keep the sport more exclusive, according to Race fans. 
The entrance fee is used to prevent an incident like the one in 2010. Four new teams wanted to enter Formula 1, but this went wrong for one team. USF1 announced that it was entering the sport, but never appeared on the grid.
Magnussen feels at home with Haas, but has not negotiated
Kevin Magnussen says that he has not yet given too much thought to the future. He says he is comfortable with Haas and hopes to stay there. However, Haas has not yet made a choice as far as the drivers in 2021 are concerned and has also repeatedly stated that Kevin Magnussen and Romain Grosjean do not necessarily have to count on a seat in 2021.
"At the moment, I have not yet negotiated anything with Haas. It is clear that I want to stay here. But I have to be honest, it's not the only team I can go to in Formula 1. Still, I would be surprised if there are big changes in 2021," said the Dane to F1Aldia.com. 
Imola wants to admit 13,000 spectators to the race.
The circuit management and Grand Prix organization have the ambition to admit some 13,000 fans to the race on the legendary circuit. The circuit wants to make use of a clear parking plan, with thirteen parking blocks for a thousand people. In this way, the organization wants to try to keep the distance between the spectators, motorsport-total.com reports. (Photo: Wiki Commons)
Formula 1 honours Ferrari with red safety car
This weekend the Scuderia Ferrari will drive its 1000th Grands Prix. The main part of the weekend will be dedicated to Ferrari. This race will use a very special colour scheme for the safety car, because this time the Mercedes will be red instead of silver, motorsport week reports. (Photo: Wiki Commons)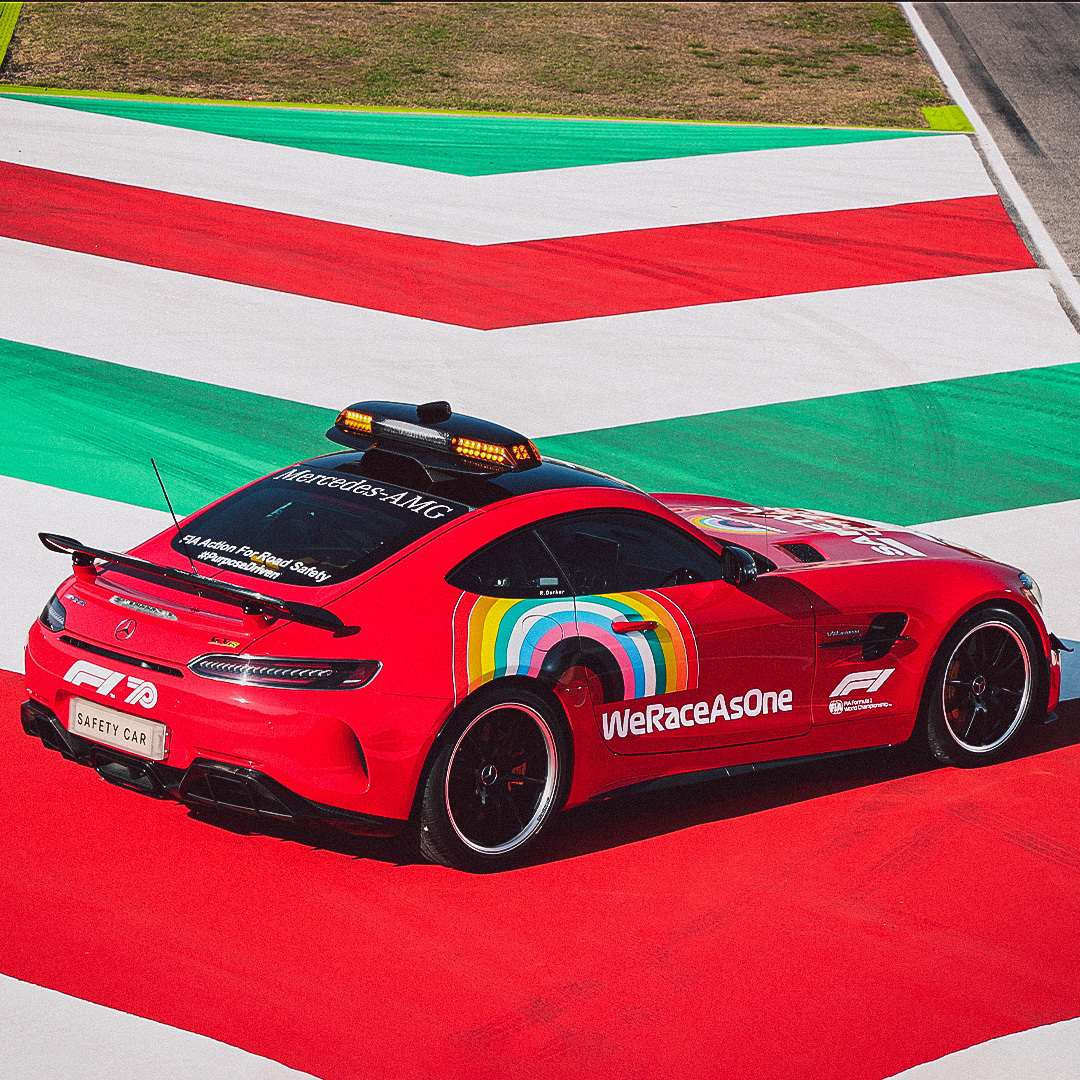 Vettel acquires Mansell's title-winning Williams car
Sebastian Vettel has enriched his car collection with an old Williams F1 car. The Williams FW14B, with which Nigel Mansell won his world championship for the British racing team, accounted for ten of the sixteen Grand Prix victories in 1992. In addition, Mansell managed to secure fifteen pole positions that year with the new acquisition of Vettel.
Turkey aims for long-term goal after organising race in 2020
The organisers of the Turkish Grand Prix say they want to keep their place on the calendar after the one-off Formula 1 event in 2020, according to Motorsport Week. Turkey disappeared from the calendar after the 2011 season and will welcome Formula 1 again in mid-November, after an absence of nine years. The organisation now hopes for a long stay in Formula 1 again.
Fisichella: "The current shape Ferrari is in hurts us all"
Giancarlo Fisichella has indicated that he does not like the horrible shape Ferrari is in. The Italian, who was himself active for many years for Benetton and Renault in Formula 1, says to Corriere dello Sport at the Fair Play Menarini Awards about Ferrari: "The current shape Ferrari is in hurts us all. Hopefully, Ferrari will continue as they always have done as soon as possible".
"Limited number of fans present in Abu Dhabi"
According to Gulf News, the Abu Dhabi Grand Prix will be held with spectators. The number of fans admitted to the event in the Middle East is not mentioned. It is also clear that there will be more events where fans will be allowed. The exact races where this will happen are now being negotiated with Formula 1. 
FIA launches investigation into Giovinazzi's flying wheel
The FIA is going to investigate how it was possible for Antonio Giovinazzi's rear wheel to come loose from the car in his crash during the Belgian Grand Prix. The flying wheel hit George Russell's car and that should never happen according to race leader Michael Masi. Immediately after the crash, the technical team started investigating and taking photos. "We have to investigate the data," he says to Racer.com. Normally, even in the event of a major crash, tyres remain stuck to the cars thanks to a number of strong cables. In the past, a number of fatal accidents have occurred as drivers, marshals and spectators were hit by flying wheels. 
Wolff clarifies misunderstanding Bottas and engineer
During the Belgian Grand Prix a misunderstanding seemed to have arisen between Valtteri Bottas and his engineer. The Mercedes driver wanted to use the 'overtake mode' of his engine compared to Lewis Hamilton, but the team said it was against the agreements. "I never heard of that" replied Bottas, who then stayed nicely behind his teammate.
Toto Wolff clarified the incident. "In principle, there are no rules about overtaking each other, but we agreed not to use the overtake button on each other. It can only be used a couple of times in the race. We wanted to save it for when we got into a fight with Max (Verstappen, ed.) or someone else. That's why we didn't think it was a good idea", says the Austrian team boss in conversation with Motorsport.com. 
No feeling in leg' Bottas turned out to be not so bad after all
During the race at Spa-Francorchamps last Sunday, Valtteri Bottas complained about his legs. The Finn said about the on-board radio that his left leg was becoming numb, a message that sounded dangerous at first. "But it wasn't that bad," he said at the press conference afterwards. "Something like that always sounds worse than it is. I've had it before and it came back now. It's a very light feeling, so it didn't bother me that much".
Masi: 'There was no need for a red flag in the Giovinazzi crash'.
The fact that there was no code red during the Belgian Grand Prix after the heavy crash of Antonio Giovinazzi and George Russell is thanks to the marshals' quick clean-up work. This puts race leader Michael Masi in conversation with RaceFans.net. When the safety car drove past it, a clear path was visible. In my opinion, a red flag was therefore unnecessary'.
No explanation for problems at Sainz
Andreas Seidl, team boss at McLaren, still has no explanation after the race for the problems of the Renault engine that caused Carlos Sainz Jr. to finish his race prematurely. "We need to look at and analyse the data to get a grip on what has been damaged. I don't want to say too much about it, because Renault is also still doing research. We have yet to see what this will mean for us by the end of the season, we expect to have to write this engine off," the team boss says to motorsport.com.
Teams hold a minute of silence on Saturday to commemorate Hubert
For many people in Formula 2 and 1, the coming race weekend has an extra emotional charge. A year ago, the talented Anthoine Hubert passed away in an F2 race at Spa Francorchamps, this weekend's circuit. To commemorate the death of the Frenchman, all teams will keep a minute of silence on Saturday, several F1 journalists reported on Twitter.
F1 teams to bring more employees to circuits
The Formula 1 teams are allowed to bring more employees to the circuit from the Belgian Grand Prix. In the latest version of the sporting regulations, the coronavirus restrictions have been relaxed. The teams can now provide their own catering again, which means that ten extra employees can be taken to Circuit Spa-Francorchamps, and all circuits after that.
Bottas gets acquainted with 'unknown' circuit Imola
Valtteri Bottas has already gotten familiar with the Imola Circuit where the Emilia-Romagna Grand Prix will take place. The Finn drove a Mercedes-Benz A 45 AMG 4MATIC on the track. This allowed Bottas to discover a circuit unknown to him. "This track is part of the history of Formula 1. It was great to drive on a track where I saw my heroes tearing past me when I was very young," said Bottas to Motorsport.com. "I can't wait to start racing here."
FIA confirms one new corona contamination in F1 paddock
Last week one person tested positive for coronavirus in the Formula 1 paddock, the FIA and F1 report in an official announcement. This is evidenced by 2,847 tests taken on drivers and team members since last Friday. It is not clear who has been infected. For the time being, no team has made a statement about this. It is the first time since Sergio Perez was infected that someone in F1 tested positive for the virus.
Alonso brings out own documentary 'Fernando'
On the 25th of September Fernando Alonso will be bringing out a documentary series on Amazon Prime, reports Filmvandaag.nl. In the documentary, the Spanish driver gives a glimpse into his life on both sporting and private levels. Alonso himself is very happy with the documentary. "'Fernando' has been an extra challenge in my career, a commitment to show myself and my work to the public. To show the sacrifice and the high demands of the world's top competitors and that the fight never goes beyond the track".
Ella Stevens on the hunt for a woman's first Ferrari seat
British karting champion Ella Stevens is well on the way for a seat at Ferrari. The 13-year-old driver is achieving the same results as Lewis Hamilton did at that age, and a number of prominent figures have noticed this: including Rob Smedley, a former Ferrari engineer. Smedley is now Stevens' mentor, enabling her to forge good relationships with Ferrari and, for example, the Drivers Academy of the Italian race stable.
For its part, the Scuderia also wants to set up a program for female drivers in the king's class of motor racing. "We're going to do more to get women into motorsport and make the road to F1 easier," Mattia Binotto explains to CNN.
---
Tags: Formula 1 formula 1 news f1 news coronavirus Kimi Raikkonen corona f1 in a nutshell
Comments
---
More news